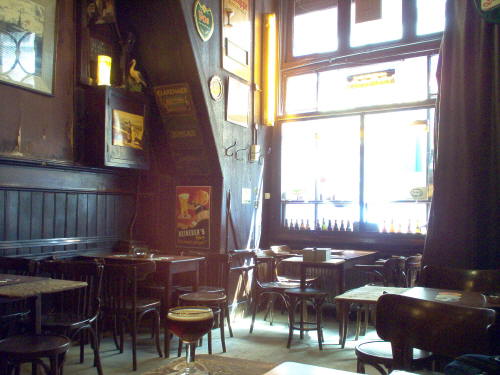 Dutch pubs are scheduled to go smoke-free on July 1st. I say scheduled, because some landlords are still trying to fight the decision.
There was an item on the local news last night about the objections from the trade. It was claimed that the new rules would be disastrous for small pubs, of which Amsterdam has hundreds. The location they'd chosen to illustrate the point was the
Pilsener Club
. Sure enough, it's pretty small. It's also pretty good and quite unusual. There's no bar counter. They sell a few decent beers, including
Van Vollenhoven's Stout
, and have a good range of jenevers. Now here's the irony. The reason I don't visit it more often is because it's unbearably smoky.
Just how smoky was demonstrated very well. The walls are dark brown, but they moved a picture aside to show the original colour: pale cream. Once smoking has been banned, how are brown cafés going to become brown? Until now they've relied on customer-supplied nicotine staining. Sounds like an opportunity to me for a new "nicotine-brown" shade of paint. Or are we going to have to start calling Amsterdam's traditional pubs cream cafés?