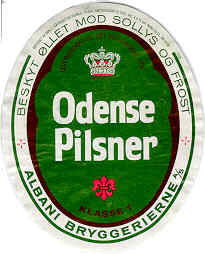 We're back with the article on Danish and German brewing in the Journal of the Institute of Brewing. Clearly I find it fascinating because it's all about Lager.
First we have boiling. A truly fascinating topic.
"Wort boiling was usually for 75 min. open and 60 min. under pressure with the propeller on, the coppers being heated by a central high-pressure steam dome and an annular low pressure zone. Hops were added in two batches — at the start of the boil and after pressure had been reduced — in amounts calculated to keep the final isohumulone content of the finished beer constant. Hop rates varied from 5-8 oz. per brl. for Pilsner to 11 oz. for 1080° beer. Hot-break nitration was carried out in a modified mash filter and adjustment to gravity was made in the filtered-wort receiver; cooling to 46° F. was in stainless steel plate coolers with a final brine section. The cold wort was aerated to 5 ml. of dissolved oxygen per litre, and oxygen content was checked in the laboratory by a method involving polarization of a falling mercury electrode, coupled to give a direct galvanometer reading in ml. of oxygen per litre."
Journal of the Institute of Brewing, Volume 66, 1960, page 496.
Not sure I completely understand that. Pretty sure I've never come across a British brewer that boiled both open and closed for the same beer. I certainly wouldn't have expected a brewery whose main products were Pale Lagers to boil under pressure as that can add colour to the wort. It's also a very long boil - 2.25 hours in total. You can see in the tables below that it's much longer than Whitbread's Ales were boiled - the longest is 75 minutes. Though the two-hour boil time of Barclay Perkins' Lagers is much closer.
Those hopping rates are pretty low. Whitbread's Mild and Brown Ale, though much weaker, were hopped at the top end of the Danish Pilsner range. Even Harp Lager was in a similar range, and Barclay Perkins' other Lagers were much more heavily hopped.
Whitbread Ales in 1960
Beer
Style
OG
FG
ABV
App. Atten-uation
lbs hops/ qtr
hops oz/brl
boil time (hours)
boil time (hours)
Pitch temp
length of fermentation (days)
Best Ale
Mild
1030.6
1010.0
2.73
67.32%
5.67
11.14
1
1
64º
7
FB
Brown Ale
1033.8
1008.5
3.35
74.85%
5.45
11.68
1
0.75
64º
6
KKKK
Strong Ale
1051.8
1016.0
4.74
69.11%
7.50
24.88
1
1.25
62º
7
PA
Pale Ale
1038.4
1012.0
3.49
68.75%
5.89
14.60
1.08
1
62º
6
WPA
Pale Ale
1035.5
1008.0
3.64
77.46%
8.63
19.97
1.25
1.25
64º
6
Source:
Whitbread brewing record held at the London Metropolitan Archives, document number LMA/4453/D/01/127.
Barclay Perkins Lager in 1962
Beer
Style
OG
FG
ABV
App. Attenuation
lbs hops/ qtr
hops oz/brl
boil time (hours)
Pitch temp
max. fermentation temp
length of fermentation (days)
Export
Export
1045.5
1007.7
5.00
83.08%
4.51
11.84
2
45.5º
49.5º
14
Harp Lager
Lager
1035.1
1008.6
3.51
75.50%
3.93
8.40
2
45º
47º
8
Sparkling Beer
Lager
1045.5
1010.0
4.70
78.02%
4.49
12.38
2
45º
49º
15
Source:
Barclay Perkins brewing record held at the London Metropolitan Archives, document number ACC/2305/08/276.
As for the hop additions, when exactly was the second one? The only explanation that makes sense is that they boiled first under pressure, then open. Otherwise when would the pressure drop? It certainly doesn't sound as if there were any aroma additions.
Now some other strange brewing techniques:
"Brewing procedure in other Danish breweries visited generally resembled that described above, but a common liquor treatment was to soften with lime in the cold and add gypsum to the grist. One large brewery had cut down the saccharification rest (Table I) to 20 min.; a 70-Qr. mash was filtered in lauter tuns, and a speed comparable to the mash filter was achieved by using 4 small tuns together, alternating, since 1956, with a single huge tun of 28 ft. diam. Hot sludge filtration was frequently required after the hop strainer, and a vibrating mesh screen was employed in one case and a centrifuge in another; the typical German open coolship was encountered only once."
Journal of the Institute of Brewing, Volume 66, 1960, page 496.
There's something else I don't understand - how the four small tuns and one giant one worked together. If you do, please let me know.
Adding gypsum to the grist would have effectively hardened the water, so why soften it first? Was gypsum being used as a sort of Burtonisation? Yet another point I don't understand. I'm not doing a very good job of explaining this, am I?
Ah, finally something I understand. They didn't use open coolers much in Denmark. I've spent the last couple of years saying that the correct English word is "cooler" and here's someone using coolship. Whatever you call it, one of the reasons its use was retained after the introduction of other cooling methods was that lots of gunk would drop out while wort was in it. hence the need to filter out sludge when one wasn't employed.
Next time we'll be looking at fermentation.