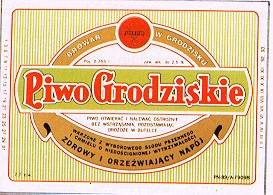 Good news from Poland: Grodziskie might be making a comeback. The last brewery producing it closed in the mid-1990's. I've had a report that it's been purchased by a local businessman who intends resuming production. The original yeast strain - preserved by the last head brewer - is available for use.
A little background
Grodziskie was the only truly ingidenous Polish beer style to survive in the second half of the 20th century. It was a top-fermented, smoked wheat beer. It was the last survivor of a style called Grätzer (derived from Grätz, the German name for Grodzisk) and was once popular across northern Germany.
This is the earliest mention I've found of the style:
"Pohlnische Biere. Pohlen liebet besonders die weißen Biere, die es auch
verschieden, und sehr vortrefflich, hat; z. E. das Gräzer und Lobsenzer,
vornehmlich aber das Waretsker Bier, welches leztere, wenn es alt geworden, an
Klarheit und Farbe dem Weine gleichet.""Polish beers. Poland especially likes
white beers, of which it has several excellent ones, for example Gräzer and
Lobsenzer, but mostly Waretsker Beer, of which the latter, when aged, resembles
wine in colour and clarity.""Oeconomischen Encyclopädie" of 1773
Grodziskie (or Grätzer as it was called in German) seems to have been quite common pre WW 1, as the name crops up quite a bit. I recently found this:
"Nach den vorliegenden Angaben sind beim Verkauf in Fässern von den
Brauereien abgesetzt worden: gewöhnliche obergärige Biere bis zu 12 M., bessere
Sorten in der Regel zu 12 - 18 M. (Grätzer Bier 12 M.), untergärige Schankbiere
zu 14-18 M., Lagerbier meist 17-25 M. für 1 hl."
Zeitschrift für das gesammte Brauwesen 1894, p.31

It's talking about the wholesale price of draught beer in the Brausteuergebiet (all of German territory at the time, except Bavaria, Baden, Württemburg, Alsace Lorraine and Luxemburg):


ordinary top-fermening beer up to 12 M. per hl
better types of top-fermenting beer 12-18 M. per hl (Grätzer Bier 12 M.)
bottom-fermenting Schankbier (I guess 10° Plato or less) 14-18 M. per hl
Lagerbier mostly 17-25 M.

What's interesting is:


Grätzer is the only specific style named;
even the weakest bottom-fermenting beer is the same price as the best top-fermenting beer.

I think it's safe to assume that at this time Grätzer was pretty well-known.
In 1894 the district Posen (now the Polish Poznañ) had 158 breweries of which 101 were top-fermenting, producing between them 177,038 hl in the brewing year 1892/93. The 57 bottom-fermenting breweries produced much more - 307,800 hl. Which made the proportions 37% top-fermenting, 63% bottom-fermenting. The only region producing a higher percentage of top-fermenting beer was the Kingdom of Saxony at 41%. (Over the whole Brausteuergebiet the percentage of top-fermenting beer was 23%.) (Source: Zeitschrift für das gesammte Brauwesen 1894, p.23)
In "Ksiêga Piw i Browarow Polskich" ("Book of Polish Beer and Breweries"), Tadeusz Kaczmarek, 1994 dedicates pages 266 to 274 to Grodziskie. Here's a summary of the most interesting bits.
It's thought that it was first brewed sometime in the 14th century.
It was related to German Weissbier, but had its own specific taste from the use of smoked wheat malt.
It was brewed using an infusion mash.
It was bottle-conditioned.

In the 1990's 3 variations were produced:
Grodziskie 7.7° Plato, 2.5% ABV
Grodzisz 12° Plato, 3.5% ABV
Bernadyñskie 14° Plato, 3-5% ABV