Do you remember that I said I couldn't find any evidence for Dutch Oud Bruin from before WW II? It was a long time ago, I know. Turns out my consolation visit to the Amsterdam archive unearthed some useful facts.
I've been going through the records of Heineken Rotterdam. So far I've done 1911 to 1950. The first time Oud Bruin appears is in 1949.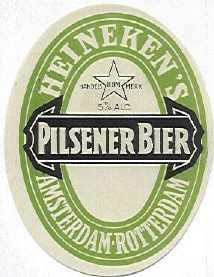 Note how the Licht (Light) and Donker (Dark) Lager brewed before the war had disappeared by 1949. At one time these weak beers had made up a considerable percentage of Heineken's output. Postwar the only lower-strength beers brewed were Oud Bruin and an 8% Balling Pils Export. At first I wondered what the hell this weak Pils was. Why were they exporting such a weak beer. Then it dawned on me: it must have been brewed for the British market.
It's interesting how little the hopping rate for Pils changed over the decades. The ABV, too. The ABV - always 4.7% - had be a bit flummoxed. Dutch labels must have been the first to include the ABV - before WW II. And the Heneiken Pils labels always state 5%. (From the records it's apparent that the tax system was already based on the ABV of the final beer in 1928.) Then a thought came to me: what deviation was allowed from the stated ABV? My guess is that they were deliberately brewing to the lowest strength that would allow them to legally put 5% on the label.