"I know what I'm going to post about today."
Andrew: "About the school?"
"No, that has no connection with beer. It has to be about beer."
Andrew: "But I remember you once wrote about something else. Really. You did"
"Do you want to hear what I'll be blogging about?"
Andrew: "But you really did once write about something else. The one with the title
Leeuwaarden
. That wasn't about beer."
"Do you want to hear what I'll be blogging about?"
Andrew: "It really didn't have anything to do with beer."
"A comment I made on someone else's blog was the inspiration."
Andrew: "Take a look, dad, there's really nothing about beer in
that one
."
"There's an interesting story behind today's post. Several, in fact."
Andrew: "I'm sure there was another one not about beer, too. What was it . . . . ?"
"Porter in the DDR. "
Andrew: "Why can't you write about the school?"
I give in. I'll write about the school. Andrew's pressure hasn't decided me . The reasons are:


I can't find my DDR label scans

I can't find my translation of Dickscheit (what a dirty mind you've got - he's the author of "Leitfaden Für den Brauer und Mälzer")

Maybe I'll find time tomorrow.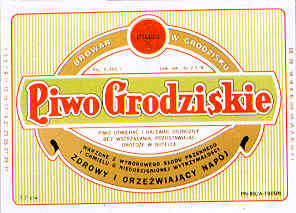 Talking of "Leitfaden Für den Brauer und Mälzer", while flicking through it looking for the bit about Porter just now, I spotted a reference to
Grätzer
. The book was published in Leipzig in 1953. The mention was in a description of Rauchmalz (smoked malt). This is what says: "The best known Rauchbier is
Grätzer
." The malt for
Grätzer
was dried over beechwood fires, it explains.
I'm thrilled.
Grätzer
only died out about 10 years ago, yet I've only found a few short remarks about it. And I'm always rummaging around in German technical brewing litereature. (I know. I'm weird. Don't worry, I've come to accept it.) It's like unearthing a nugget, seeing the word
Grätzer
. Someone recently emailed me to say they were supposed to be reviving the beer this year. I hope they do. After I tracked down my original holy grail,
Gose
, I switched my attention to
Grodziskie
(the town from which Grätzer derives its name is now in Poland). Beer I would most like to try.
Amsterdamse School. My favourite type of architecture. Andrew starts secondary school next year. Our search for the right one started today at the open day of the
Berlage Lyceum
. An Amsterdamse School Amsterdam school.
I kept getting distracted.
Takstraat
is just behind the school. A wonderful bit of de Klerk fantasy,
Takstraat
is. Unusually for a building of the interwar period, the back elevations are as interesting as the facade. The way the balcony storage boxes (common in Amsterdam flats) have been modelled is pure genius. You can only really see it from the school playgound. As an older bloke, hanging around in school playgrounds isn't something I feel comfortable doing. Unless I have Andrew along, of course.
The
Berlage Lyceum
isn't bad looking itself. They didn't have leaded glass and frescoes in my school. He could study in worse surroundings. And the views are magnificent.