I've been prompted to write this by
an excellent post on the same topic
by Zythophile.
The roughest pubs I've been have been mostly outside the UK. Mostly.
There was the aptly-named Whip in Leeds. With what my mate Harry called the "industrial accident" bar at the front and the Ted's bar to the rear. The Blind Beggar, when I visited in the late 1970's, was horrible in every sin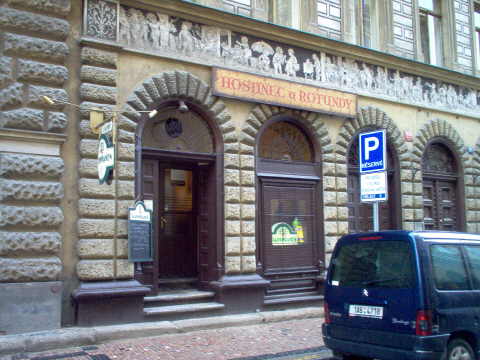 gle way, including the beer. The Whip had a decent pint of Tetley's.
U Rotundy
in Prague is a perennial favourite. I even forgive them the fag smoke. A man's pub in many of the bad senses. But where beers appear magically, without the need to speak to the barman. U Fleku could be a bit scummy in the old days.
U Zpěvácků
, not far away, used to be totally crazy. I once sat opposite a couple of ZZ Top lookalikes rummaging through a stolen doctor's bag.
Then there's the DDR. The place opposite my mother-in-law's where we bought a bucket of beer. My brother-in-law's local, where everyone had a tattoe above shoulder level and you had to order a shot with every pint. Or the station buffet in Leipzig. Sour Pils and drunks trying to make political speeches with wee stains on their kecks. Happy days.
Hebendanz
in Forchheim merits a mention. Rough, but unthreatening. Patrons drinking litre measures before breakfast. And scowling. Talking incomprehensibly. That's another rough pub favourite. Preferably in some weird regional accent.
That reminds me of the place I stumbled across in Salzburg. While I was waiting for Augustiner to open. Where I so impressed the locals by drinking schnapps for breakfast, that they bought me a couple more. I'd thought I could understand Austrian accents until I went there.
But I reckon U Dobreho Kata (The Good Executioner) in Brno has to be the roughest of the lot. There were few nights in my month at Czech summer school when I was the soberest in the pub. In Kata, I was the sensible one. And I came home without a shirt. I gave my "DR & Quinch say nuke your parents" T-shirt to some Czech youth changing trains on his way to the Balkans.